As you might already know, my blog article about my 2 visits to the great Bergresort Werfenweng of the Travel Charme Hotels ended with the plan to visit their Fürstenhaus am Achensee in Tirol... which unfortunately wasn't possible at the beginning of the pandemic in March...
Which was okay, but I couldn't accept that for the rest of the whole year 2020: I also mentioned in this article that on our way to Bornholm / Denmark I drove past the Ostseebad Binz on the island of Rügen just to see the beautiful Travel Charme Kurhaus Binz at least once from outside...
from then on I was flashed and it was crystal clear "I absolutely need to spend a vacation in this hotel!" And luckily that has happened in September :)
VERY EARLY ARRIVAL BY TRAIN & PLANE: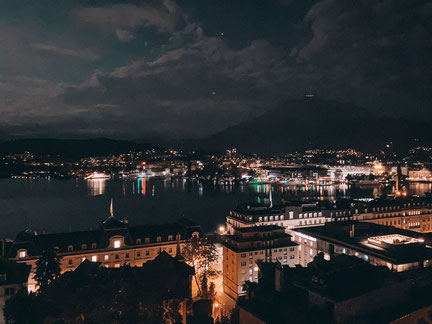 The trip should start at my hometown (Lucerne in Switzerland) to head off to to Zurich at the airport to fly to Hamburg and then drive with a rental car further on to the Ostseebad Binz.
It all started with an alarm clock at 4:30 am and if you know me well, you might know that I only get up for very special things at such a time and only when I am really hyped :) So I was hyped af.
I took the train from Lucerne to Zurich, where I had to wake myself up again with a coke after the security check. Ah just a short note about the security check... with so much camera equipment, a GoPro suitcase that looks like a small gun case, a laptop and a drone in my hand luggage, it was already clear to me that it came to unpacking and a check: "Nice drone! :D Greeeaaat, did I unpack everything for that now? When I thought he just wanted to see the drone, he told me that he had seen so much electronics and needed to ask again what all this was.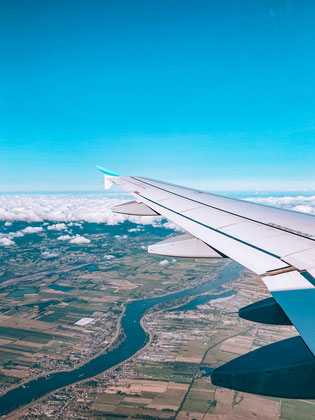 Now I got on the plane and as I thought that due to Covid I won't sit next to another passenger, I was looking forward to a lot of space on my seat at the window...
I was wrong, even tough only 1/3 of the plane was booked, somehow I was sitting in a row with 3 people close to each other! What was going on here???
when I heard the words "Boarding completed", I looked for 3 free seats, said goodbye to my seat neighbors with a smile and said "Don't worry, it's not because of you! :D" and chilled out on my new seat.
Headphones with summer music & sunglasses on, looking out of the window into the blue, endless sky and calming my busy mind to let the vacation begin.
When my vacation mood and relaxation already starts on the way to the actual vacation, I always think how hard it must be for those people who completely stress themselves while traveling and then maybe are even afraid of flying... I am so grateful that I can usually manage this in a relaxed way... But on the flight back this wasn't the case and way different, but more about that later.
WARM WELCOME AT THE KURHAUS BINZ: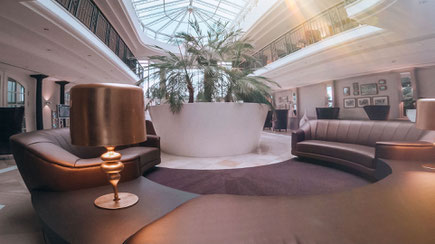 Now I arrived in Hamburg, picked up my rental car within minutes and drove euphorically towards Binz. The Navigation system was on, but you can't go wrong on the way to Rügen and so I arrived with big anticipation at the Kurhaus Binz.
I was welcomed very warmly and I immediately knew that now a brilliant stay was waiting for me :)
In a spacious and bright reception hall I checked in super uncomplicated and got a welcome champagne, which I enjoyed on a comfortable couch, that is arranged around big palm trees. After that I was even more relaxed and went to inspect my hotel room.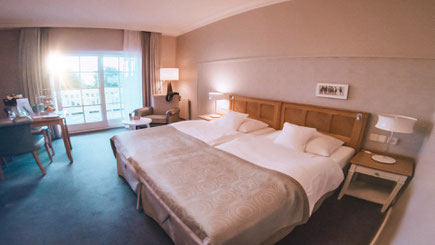 I found a very beautiful room, furnished in the style of the so called Bäder Architecture (which is the nice architectural style of most of the houses here on Rügen). There also was a kind personal welcome letter, fresh fruits and delicious chocolates, of which I immediately enjoyed some :)
First things first: In hotels I always need to hop into the bed first and test the comfortable mattress... test passed :)
I also checked the balcony and then it was time to go out to the ocean to have a look at the magnificent Kurhaus from the beach and the 370m long pier.
As you can see on the drone footage the Kurhaus is simply a treat for the eyes and fits perfectly to the landscape around it. It is located in the front row directly with an amazing sea view that simply invites you to daydream.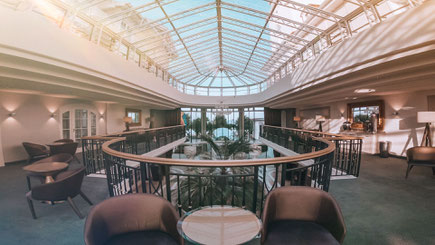 You immediately understand why this hotel has always been a Hotspot for vacation: It's already over 100 years old and thus has not only an elegant historical charme, but combines all this with a suitable not imposed modern style, which makes it modern and nevertheless historically charged.
Since the early years of this hotel there have always been special guests like huge personalities, even Emperors have been there... and now also me :D Just kidding, but you really feel like a king as a guest here and that especially because of the great service of the hotel team. You don't miss anything and what I noticed is the personal closeness between the team and the guests, which makes you feel at home much much faster. And whoever comes there to escape their busy daily routine for a few days gets to calm down way faster.
And so I was even more excited to go out for dinner at the Kurhaus later after my beach walk to enjoy this feeling even more.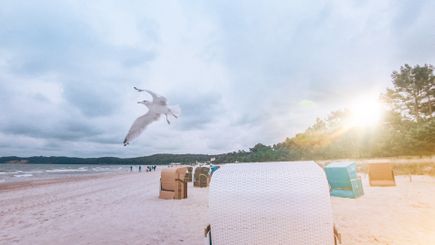 The beach or the whole bay looks like a giant U-shape which starts at Cape Arkona and the mighty chalk cliffs in the west with the center at the Kurhaus and in the east with the cliffs near the famous Ostseebad Sellin. This makes it a very well protected bay area agains wind, waves and weather.
At my visit in the end of September there were temperatures around 20-22°C.
Since I was still quite tired from my long journey from Switzerland to this place, I walked at the pier, just sat down in the sand, looked into the distance over the sea and listened to the waves.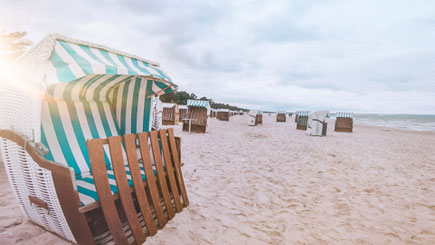 After these beautiful impressions and some nice drone shots at the ocean with the beach chairs and the sound of waves in my ears, I finally went to the main restaurant of the hotel for dinner.
Besides this restaurant there is a super delicious steakhouse that also belongs to the hotel, where I had dinner the next day. And of course there is the Kakadu Café Lounge & Bar, where you can get delicious cocktails as well as small but also big snacks like burgers and fries.
At the reception you can reserve a table for these restaurants. For the bar this isn't necessary. Of course sometimes I forgot the reservation :D... but even tough I was late they still organized everything for me at the reception, so that I always got a seat and delicious food.
The Covid safety concept of the hotel is also implemented very well and so besides the general safety standards you have fixed times at which you can go to dinner, so that the amount of guests is split and you don't have that typical coming and going of the guests all the time, so there are less guests who can enjoy their meal at the same time. And that also helped to calm down the whole restaurant.
FOOD, FOOD, FOOD & AGAIN FOOD: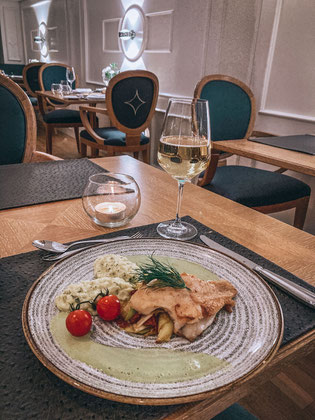 Now let get to the most important part, the food itself. I had a 4 course menu and it started with crêpes rolls of salmon filled with wasabi cream. Followed by a Rüganer potato soup with bacon croutons and leeks...
what a great and tasty start :) and just in the right amount not to be too much or too less to be ready for the main course and dessert.
The main course was even more delicious with fried plaice fillet with dill-parsley sauce, herb risotto and tomato-leek vegetables. Amazing!!! :)
to that I had a Sauvignon Blanc from my former home in Baden-Württemberg. I started with a glass, because I thought a bottle is too much, but in the end the wine was so good that I drank 3 glasses (or even more) to my meal :D
Before I got my dessert the waitress came and asked me if I wanted to take a little break or continue directly with eating. Of course I went straight on :D and she wanted to know if I'd like to have a digestif besides or after my dessert.
I asked her for a recommendation and then ordered an apple schnapps, here from the island of Rügen, which is made from apple varieties that are no longer cultivated, so called old varieties. This was definitely the right choice :) and harmonized perfectly with my wild berry-vanilla cake with ice cream and physalis.
THE VERY BEST GIN TONIC AT THE KAKADU BAR: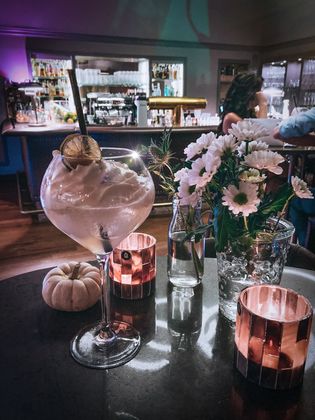 So I was more than well-fed, happy and pleasantly tired, but not yet ready for bed. Of course, I still had to go to the Kakadu Bar, where I heard stories about really wild parties in the 1920s.
Of course it was relaxed there and the highlights, besides the delicious cocktails, are definitely the skills of the bar chef Matthias Raab. I've been to many bars but I've never seen anyone who not only knows his craft so well, but also puts his heart and soul into what he does.
As a small example: The extraordinary looking cocktail in my video and here in the picture is actually "just" gin and tonic, which is often made by mixing two components and ice... and that's totally okay. But not for Matthias... he used local gin directly from the island of Rügen, a pre-cooled glass, extra large ice cubes so that the drink doesn't dilute, and even the tonic Espuma (the creamy foam on top of the cocktail) was prepared by him, the dried slices of lime & orange were dried by himself and the topping was refined with the essential oils of the lime peels, ignited live in front of my eyes by a little burner.
Awesome, right? Take a look at the video... That's what I call dedicated and brilliant... simply beautiful to see someone loving what he does for a living. <3
So now I went to bed more than satisfied and was amazed how great a first day in a hotel can be. After all that, I was already excited about breakfast and the day at the beach and slept like a baby...
A DAY AT THE BEACH & THE CHALK CLIFFS: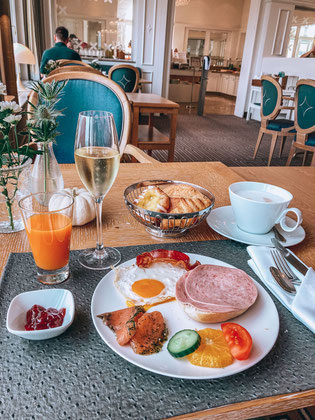 The next morning I got ready and sat down on the balcony before breakfast, because the weather started very well with sunshine.
For breakfast, I tested everything that I could find on the rich buffet and I had a little Prosecco and a cappuccino with a nice crema.
When I was finished with bread, egg with bacon, smoked salmon with horseradish, a croissant and other delicacies, I also had to try a sweet pancake with Nutella and a small piece of apple pie. You can see where my priorities are also on the other blog articles: Pure enjoyment and relaxation :)... or in other words food :D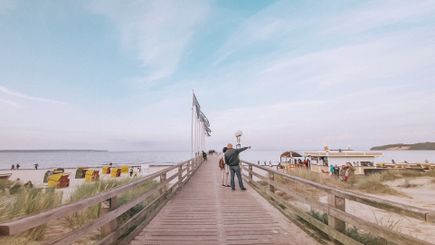 Strengthened from my breakfast, I went out to the beach, where the weather got more and more cloudy and a strong wind came up. But because of the wind I hoped for the chance that the sun would still shine through from time to time. Later that day I was lucky to catch such a short phase of sunshine without wind, when I needed to take some drone footage of the chalk cliffs.
But before I went there, I took a long walk on the beach, watched the waves crash and wandered between dune grass and beach chairs into the distance.
I thought about whether I would like to visit the chalk cliffs by car and a following long hike, or by bus or from the pier by boat.
The first option felt like the best option until then, but I decided to go by boat because of the less time and the weather. Because afterwards I planned to go to the so-called Puria Spa of the hotel to relax in the saunas and whirlpools before having a delicious meal at the steakhouse.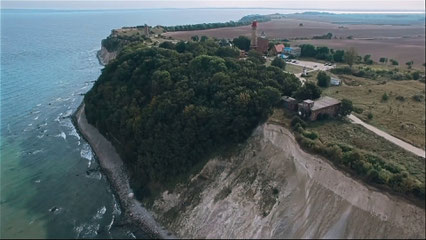 So I walked down the long beach back to the pier and took the boat through windy weather towards Cape Arkona.
During the trip I had a brilliant conversation with a nice woman from Berlin and unfortunately I forgot to shot some footage... But since the weather was slowly getting better, I knew that I would get another chance for great shots.
Fortunately it happened and I was able to start my drone for a short moment and fly to the chalk cliffs at Cape Arkona with light sun and less wind. But you get a very surprised look when you quickly start a drone out of your hand on a boat and land on your hand again. I usually start it up quickly and fly away first, then other people can't hear and see it anymore, but I see it on the screen. Otherwise they always ask a lot about it and everyone looks at me, which makes me lose my cool quickly. Especially if I want to concentrate on some beautiful and often risky shots.
On the pier it was just the same the day before when I wanted to fly under the bridge from 400m away. I then decided not to do it :D and continued to talk with the people, because a floating drone wouldn't have been so nice.
PURE RELAXING AT THE PURIA SPA: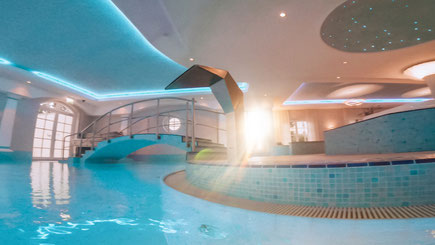 So I went back by boat to the pier (where you also needed to wear face masks) and then back to my room to put on my wellness bathrobe and go to the Puria Spa, which is easily accessible by elevator.
Once I was there, I was welcomed in a relaxed way and equipped myself with towels for the stay.
Already the first room is drowned in a soft bluish light with orange accents around some comfortable seats.
If you walk further inside, you can reach the pool area with a whirlpool & a large swimming pool or on the other side the saunas and steam baths.
I started with the pools. These are lovingly designed with a curved shape and have the style of an Egyptian bath, which immediately puts you in a special mood in combination with the soft lights and warm water, 
I tried everything, swam outdoors for a while, then chilled out in the warm whirlpool and on a comfortable lounger. I only missed the warm loungers of the Bergresort a little bit that I've praised so much in my other article because I felt asleep on there many times :D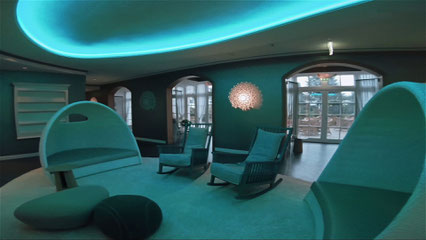 Now I tried the saunas and cooked myself in several courses at 100°C in my favorite Finnish sauna, to shower afterwards with ice-cold water :) That is sooo relaxing and vitalizing at the same time... Insanely good!
Due to Corona precautions the steam baths were closed and the whirlpool was also turned down to prevent a possible spreading air flow. But the saunas with higher temperatures were all open. However, since I had the Puria Spa completely for myself most of the time, this didn't kill my pleasure at all. As I was addicted to the Finnish sauna anyway :)
When I was cooked pretty well, I remembered the planned dinner at the Steakhouse :D and so I went to my room to get ready and visit this steak paradise. Probably I was just as medium
Rare as my steak later on my plate :P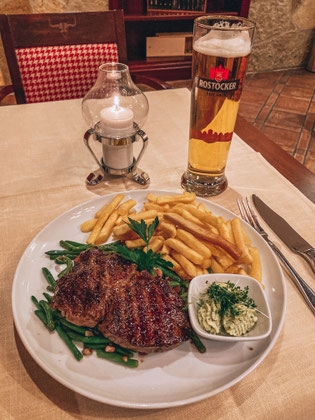 There I had a beef consommé as a starter and an entrecôte with bacon beans, steakhouse fries and herbed butter as my main course.
Guys, what can I say... look at the picture here... Many of you might know that I have always been passionate about cooking and I really like to eat a lot of things but I simply love steaks.
This steak was perfectly grilled medium rare, it had an amazingly soft woody and smokey aroma of the grill, so that it still had the special taste of the meat inside and was incredibly tender :) I nearly didn't need a knife cause it melted on my tongue.
The dinner was then finished with a crème brûlée and a Williams Christ schnapps from the already mentioned special distillery of Rügen.
I was just happily tired after all the fine food, the intensive wellness and the relaxed walk on the beach.
Nevertheless, before I fell into bed, I went for a little drink and a nice chat to the Kakadu Bar :)
THE LAST COMPLETE DAY IN BINZ: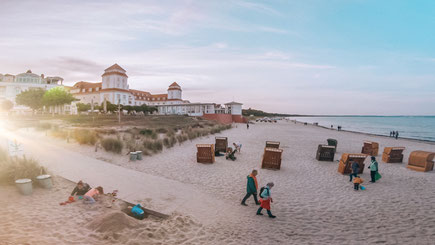 I have to admit that the next day (the last full day) I hadn't planned that much and went out without a camera, :P as I was simply enjoying the vacation mood I was in.
I was only editing the drone video but after breakfast I just relaxed outside by the sea, went to the Puria Spa, had a burger and several cocktails at the Kakadu Bar.
In the evening I met some people I got to know at the hotel :) and had a great time.
I also got to know some people from the hotel team after their work, which was a nice experience and showed me that simply good hearted people are working here. <3
DEPARTURE & CHAOS AT THE AIRPORT: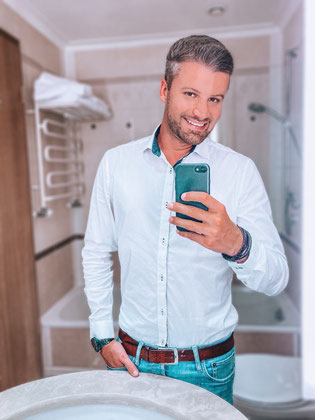 Unfortunately the last day came to an end and I didn't want to leave the next morning, so I took my time for breakfast, packed very calmly and checked out at 11am. But I was allowed to leave my car in the garage and went to the beach again to inhale the last ocean breeze and say goodbye...
But even though I had plenty of time until my flight, I shouldn't have dawdled around like that :D
I was perfectly timed when I drove off and even prepared for some traffic jams. But not prepared for a huge traffic jam xD
Just until Hamburg everything went sooo damn well and then "bang" giant traffic jam... so I arrived at the rental car return only 15min before my gate will close...
Fortunately the employee was very cooperative and said: "Just throw the key in, don't forget anything and we'll do the rest! -> Thank you so much again :)
I ran to the baggage check-in, but my suitcase couldn't be accepted anymore: "You're too late, run to the security check, throw away all liquids over 100ml, then pay a fine / additional payment at the gate and the suitcase may be allowed to get onto the plane!"
Great, I had an expensive perfume in my suitcase, a lot of other things and then I should also pay a "fine"... luckily the perfume was allowed or they didn't saw it as only my hairspray & shaving foam were dropped into the bin. At first I thought that nearly everything would go directly into the trash.
But at this moment even this didn't matter cause I still had to get to the gate in time :D And if you've ever been to the airport in Hamburg, you know what that means: You feel like you're running 1000km in one direction, only to have to run back to the security check and then run the same way (just behind the security check) back to the gate... oh maaaaaan.
Anyway, I made it into the plane in the last minute, after I made jokes with the dude from the airline, who (jokingly) said "We are happy about such an additional payment :D Especially from such a nice looking credit card".
I get compliments so often for the look of this card, I sometimes feel like it gets more compliments than myself xD
But hey, I had made it and despite the chaos and all the running with a mask on, I again became as relaxed as before, while watching the moon rising above the clouds on the airplane.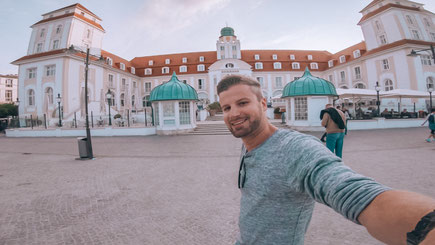 So I arrived at home with moonshine above Lake Lucerne which led to a small glass of wine on my roof terrace to celebrate and reflect this amazing vacation :)
In conclusion, even though it was a short vacation, it felt easily like twice the time. This was certainly only possible because of the ingeniously relaxed atmosphere and the great staff at the Kurhaus Binz.
THANK YOU SO SO SO MUCH TO THE WHOLE TEAM OF THE TRAVEL CHARME HOTELS & ESPECIALLY TO ALL EMPLOYEES HERE AT THE KURHAUS BINZ! <3
I could just let myself fall and it immediately felt familiar without having to worry about anything. Okay about the table reservation, which I (now I can say it) forgot more than once because I was so relaxed. Thanks again to the lovely Ann-Christin for your patience and help :) everything worked out perfectly because of you. I had a completely amazing stay at a fabulously modern and great hotel, which nevertheless has its historical charme of tradition and history!
I will definitely come back again and this time not alone :)
See you soon, stay healthy & all the best in these difficult times!
---
---
This might also interest you

For more products click via the arrows through the slider
---

---