As some of you probably know, I've been living in the beautiful city of Lucerne in Switzerland since the beginning of 2019. But I haven't really reported so much about it or shown more than a few Instagram posts with a little bit of text.
This here also won't be a huge article but a good start to tell you more in the near future about my trips, special places or just the daily life here in Switzerland.
As you could guess from my Instagram posts, in Switzerland you'll always find something to show or tell and almost every picture or video you take is breathtaking. Whether on the lake, on top of the mountains or in the beautiful cities and villages of Switzerland. And no matter what time of the year it is, it always makes you feel some kind of magic.
So this blog article, where I take you on a trip with me on a beautiful summer day at the lake Lucerne, should function as an intro of many many more following tours that I want to take you with me.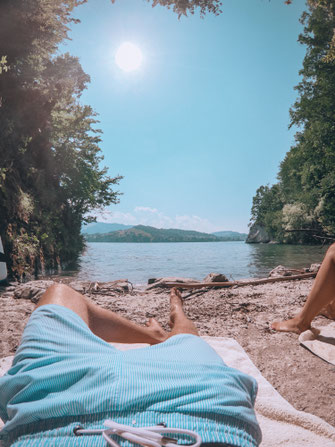 Everyday it's simply a dream to have this huge blue lake with this mighty mountain panorama behind right in front of my door.

In the morning I often stand speechless on my roof top terrace and think how unreal all this looks when the sun appears over the mountains and dips the lake and everything around it in a stunning ocean of colors.
It often looks like a movie or as if someone had added the mountains with Photoshop.


Of course it's also really beautiful and romantic in the evening when the sun goes down when you have a glass of wine or just go for a walk at the lake.
One of the best things about Lake Lucerne is that you can go swimming anywhere. There are so many awesome, comfortable places to chill out and just look into the distance to switch off your busy mind. You'll definitely find the dolce vita or the goodlife here.

Everywhere you have this mediterranean feeling in those lovely places where palm and fig trees are growing with even high temperatures in early spring when there is the warm "föhn wind" coming up.
Well, we're not far away from Ticino and Italy and you can drive down there for just having a delicious pizza. Soon there will be a blog article about this 😅 I know this isn't very efficient or friendly for the environment but have you ever eaten pizza in Italy? I know you already love the pizza in your country and now just multiply this with 1000, then you know why it's worth it 🤣
Now just imagine the day in the video above and add that before you woke up with the view of the lake and after swimming and chilling at the lake you visit a beach bar or a restaurant in the evening to have some tasty food and some drinks.🍷 Then you walk home and chill out on the terrace until the stars fill up the sky to fall asleep happily in your bed.
Amazing, isn't it?
I digress... besides the cool places around the lake mentioned above, where you can get within a few minutes by foot, there are of course some secret spots... and I think I probably leaked one of them now 🤨 But I didn't want to keep this secret from you and the video was way too nice not to share it.

I hope the place won't be crowded the next time… hmmmm...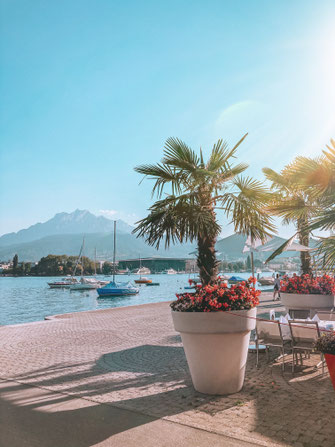 You'll find sandy beaches, turquoise water, high mountains with white peaks because some of them are over 3000m high and you still can have 36°C down at the lake.
So what do you want more?

Okay the view into the distance above an infinite ocean is also great of course, but where else can you get so many different stunning impressions like here in Switzerland?
Most of the time the water is really refreshing and crystal clear of course, because it comes directly from the mountains. The lake is also incredibly deep with 214m at the deepest point and the drinking water supply of the surrounding cities is also given by this huge, pure and clean water reservoir.
I think that says it all about the water quality and the fresh experience of cooling down in it. And don't worry, the drinking water doesn't come from where people swim 😋.
It usually comes from deep down and from places where you find special natural filter stages, like certain layers of rock etc.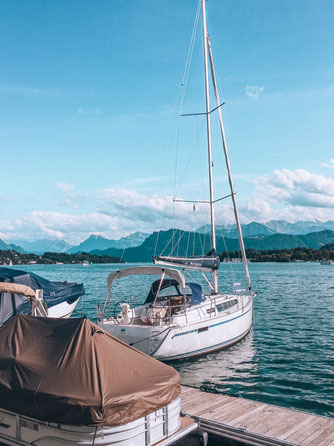 And even if you don't go swimming, there are thousands of possibilities every day to do something great.
Whether on the water, far above the water, or just somewhere else with hiking, by bike, or like I love to experience those place via my motorcycle through the nice mountain passes with their fantastic curves.
I'm sure there will be an article about that too 😊 with a video and some nice pictures from my tours with the motorcycle.


Also amazing is that from Lucerne you can easily reach all "Instagram hotspots" in a very short time 😅 like Blausee, Comer See, Lauterbrunnen, Largo Maggiore, Bürgenstock with its Bürgenstock Resort or Villa Honegg (directly on the other side of the lake I have my apartment), Matterhorn, Gotthardt… as I said all the mountain passes, mountains etc. that you know well from pictures of Switzerland 😇

I hope to give you some more impressions of all that in the future.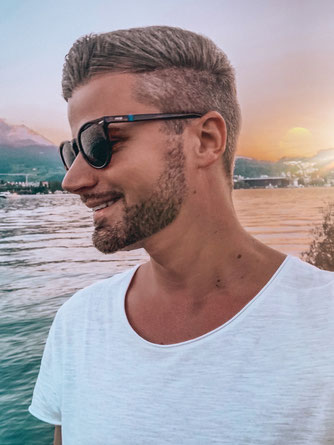 As you see it's really really difficult to write about only one topic once you stared writing about Switzerland.
So this article is the perfect introduction for many other articles, texts, videos, pictures and much more. 😊
I hope you are looking forward to it?
See you soon to have other nice trips with you ☀️🌴
Sincerely yours,
COLOURIST ♥️
---
---
This might also interest you

For more products click via the arrows through the slider
---

---