The Mayia Exclusive Resort & Spa is an exclusive 5 star premium all-inclusive luxury resort on the island of Rhodes in Greece, which leaves nothing to be desired and is made for adults only!
Here even MOËT is included in the All-Inclusive program. Therefore our motto for the 7-day stay was already clear: "Rosé all day!". (...and of course lots of Greek salad, gyros, pita, souvlaki, tzatziki and Ouzo :D)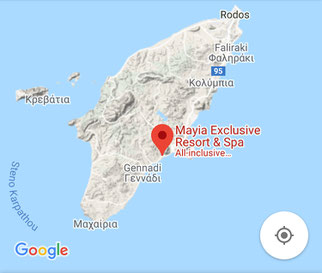 Located in the middle of the Aegean Sea, on the idyllic south-east coast of Rhodes, the Mayia will amaze you as soon as you arrive at the hotel.
If you come from the airport (60km away), most of the time you drive along the coast and suddenly the Mayia appears like a noble oasis in the rather bleak Greek landscape.
A lot of palm trees line up on the sandy and white colored hotel complex and you already get a nice holiday feeling.
To get to the entrance you drive around the Mayia getting a great overview of the area.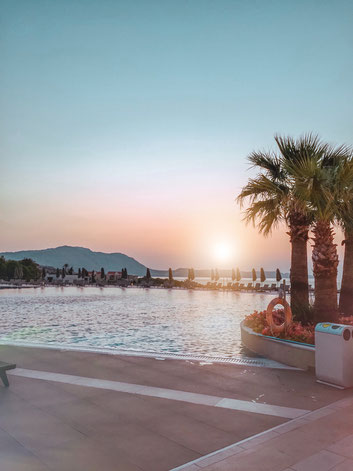 While all the other people on the transfer shuttle - who will be taken to other hotels - dropping their jaws one after another, you almost think to yourself: "Should we two youngsters really stand up now and get out here at this luxury resort?". Then suddenly you arrive at a very luxuriant entrance... no, entrance isn't the right word, it's rather a portal!
Now the shuttle stops, you stand up and the walk past all other passengers feels like a walk of fame. Everybody whispers something and you can literally see that the quiet people are questioning their hotel choice and realizing that it's too late now. Not that I love such a thing, but you surely know that feeling of insecurity when you book a hotel: Always super glossy wide-angle pictures, possibly taken on the opening day when everything was brand new (well, the Mayia was only opened for half a year before we visited) and you ask yourself: "Is everything really as it looks online?
You think about everything a 100 times before you finally book and then it's done, with the further question in your head, if there wouldn't have been a better hotel...
But, when the view while arriving already takes away all of your insecurities, then you definitely did something right.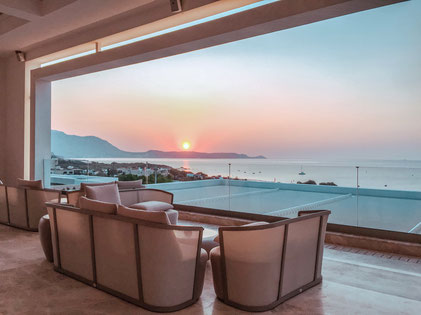 It was almost clear that the portal mentioned above leads into an even more stunning foyer / reception hall with very high ceilings, decorated with golden ornaments matching the beige and white colors.
Before you have seen everything in here, they welcome you in a very relaxing calmness and you don't have to take care of your suitcases anymore nor stand at the reception to check in.
They don't ask for your passport first but if you want to have some champagne and sit down in the super chilly lounge outside with sea view or in the pleasantly cooled lounge area in the hall. Of course we sat outside.
When you sit down they bring you your champagne with some small Greek sweets plus a cold or hot refreshing towel, that definitely put me back on track after getting up at 3 AM that day.
After a reasonable time you get asked for your passport and everything will be done, you don't have to do anything. After a little while you get asked if you want to have another drink or want to see the apartment.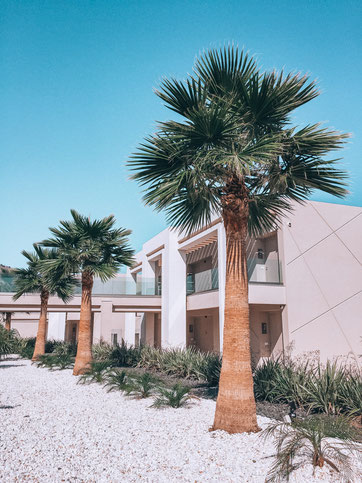 The suitcases are already packed on a golf caddy, a staff member greets you friendly and drives you through the hotel area while explaining to you the different locations on the hotel area and the way to the private beach.
The most important thing for me was: where we'll find the 7 restaurants and street food corners of the hotel. But more to that later...
On the drive on a winding path between palm trees and pools, a warm summer breeze comes to your nose smelling softly after fresh sea air, pine trees and pure relaxation.

Then finally you arrive at a luxury bungalow.
The staff guy opens the apartment for you and you have to pinch yourself to check that this ain't a dream.
Everything is well-spaced with a king-size bed and a luxury, modern interior. But the highlight of course isn't in the room itself... it´s the swim up pool right in front of the terrace door.
Now he'll show you everything in the room and at the swim up pool and explains to you other important things of the hotel complex and you can't wait to cool down in the pool. It's simply a dream to get up in the morning and walk only 3 meters to jump into your own pool... okay jumping was forbidden, but inflatables and drinks also, which didn't stop us from chilling out with some inflatable pool animals and lots of cocktails ;)... of course we were always careful and considerate!
The apartment gets cleaned twice a day. In the evening they do a little checkup, clean some things and put a small rug in front of your bed with the hotel slippers on it, so that you don't have to walk barefoot on the cool ground... Yes, even for me that was a bit too much... but nice to have... Because as I always say: "To have is better than to need! :D
The minibar gets filled up daily and is, like everything here, ALL INCLUSIVE! It contains different beers, wines, chips, bars, water, lemonade and much more... not so mini in my opinion.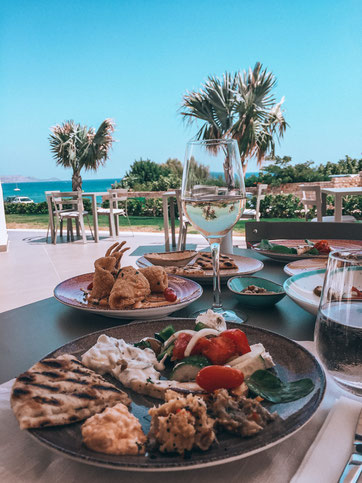 The 7 different restaurants and street food corners, 4 bars and a nightclub offer an almost unlimited variety of fine wines and food. From Greek and Italian to Asian and international cuisine, everyone can find a delicious culinary experience.
Of course we have tested almost everything. At lunchtime you can simply go out to eat in any of the restaurants, but in the evening you have to make a reservation at the reception or by room service (except in the main restaurant WATERFRONT).
THYMARI the Greek restaurant:
This was, beside the street food shops, our main place to go when we needed some lunch.
There you get everything that you can imagine, such as greek snacks and also bigger dishes. You order something and then, most of the time, you get much more, so that you can also try some new Greek things.
The waiters really pay attention to your needs so you always have a full glass. Special requests are also no problem, if you say for example that you had a very good wine in one of the other restaurants that's not on the menu here, they'll organize it for you.
Moreover, the waiters and waitresses are very friendly and despite of the pleasant and luxurious service, there isn't a "stiff" atmosphere and everyone of them is relaxed and jokes around a little bit. This creates an extremely pleasant feeling, so that you can simply be more relaxed and still know that they perfectly take care of you and your needs.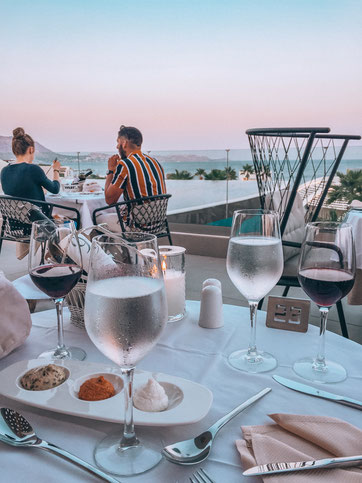 AL DENTE the Italian restaurant:
Here we had dinner once and had an amazing time. But unfortunately, we were not there for lunch, as we were busy with the other delicacies of the hotel and it was a shame that due to the variety we could not test all of all the restaurants for lunch and dinner. The hunger was indeed huge, but this would have been a little too much. But if there should be a next visit for us at the Mayia, we will try even more, as it was simply excellent food and service.
Especially the time at the Al Dente I kept in my mind, as that evening the sky was drowned in a wonderful soft orange/purple color and I was able to switch off my mind really fast while having very tasty Italian food and fine wine.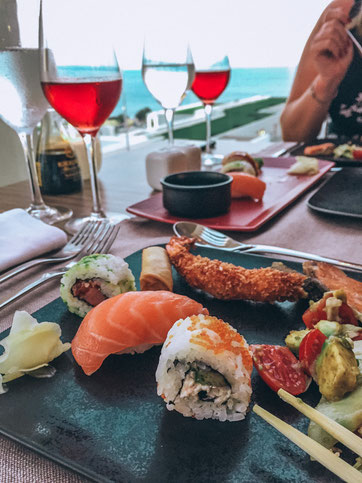 WASABI the asian restaurant:
We would have loved to try everything here. The sushi was so tender and perfect in consistency, it literally melted on the tongue. But also the other dishes were great.
This restaurant is located at the very top of the hotel next to the champagne & wine bar OINOS (which we will get to in a moment) and you have a great view over the hotel area. At WASABI we had every asian dish you can imagine from mild to spicy.
ALL DAY COMFORTABLE:
This one is located directly at the main pool, but weren't around there that often because we were blessed with our Swim Up pool.
It offers a full self-service buffet with a variety of delicious snacks and classic dishes. There are fresh sandwiches, baguettes, burgers and hot dogs, as also traditional Greek moussaka and pastitsio, rich noodles and much more...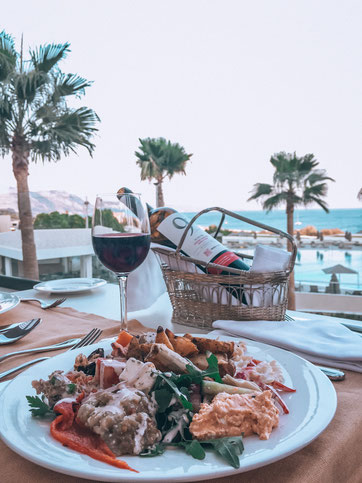 WATERFRONT the main restaurant:
Here we had dinner twice and had breakfast everyday when we weren't ordering breakfast to our apartment to enjoy it at and in the pool.
Breakfast: The breakfast buffet offers a huge variety and you can also have certain dishes freshly prepared, such as Omelette with your own chosen ingredients or other freshly made Greek specialties.
The variety of different breads, rolls, Croissants and other baked goods is great, but this goes even further with the stuff you can have on your bread and besides.
There's everything from sweet to fruity or salty and spicy. The cappuccino, as well as the many freshly made juices, are highly recommended.
Dinner: There is an incredible buffet that is at least 30m long. If you can't find something you like here, then I don't know what's wrong with you :D
There is an area where pizza is freshly made in a stone stove, a station where fresh meat or a whole fish is filleted in front of you by a Waiter if you want a piece of it. There is also a huge salad buffet with a lot of Greek little things with which you can "upgrade" your salad. Plus all the dips made of garlic, feta, herbs, tomato, chili ... whatever your heart or stomach desires you'll find it. From starters to main courses and desserts, you can try many new tasty food besides your familiar dishes.
STREET FOOD CORNERS:
Because you can get delicious street food specialties from all over the world from 11 a.m. on, we have been there very often. Also twice in "the morning" (12 o'clock) when we slept to long and missed breakfast, so then we had gyros pita or burgers, sandwiches etc. instead.
The SANDWICHERIE and the CANELA (ice cream shop & patisserie) are right next to the Street Food Corner. The Ice Cream Store is open until 2 a.m. and you can get sweets anytime. For example when you come back from the BO CLUB at night you can get some ice cream or waffles. Unfortunately the club wasn't that crowded, even if there was good music, so we were there just for a few minutes everyday to have a look and see if there's a party going on... the sweets were though included :D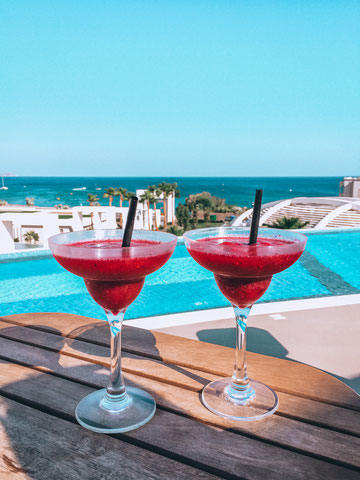 Now the most important thing... the BARS: Most of the time we stayed at the pool bar SENSO.
As in every other bar and restaurant of the hotel, the waiters and waitresses knew from day 2 what we liked to drink. And that couldn't be easy for them, because we really drank the whole menu up and down. So we always got everything :D

Nevertheless, they knew what would fit perfectly to the Situation. At the Senso we also picked up the drinks and cocktails, that we enjoyed in our swim up pool laying on some floating pool animals :)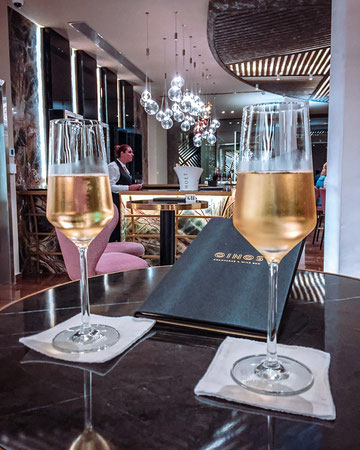 We also frequently visited the OINOS bar, the champagne & wine Bar, which is elegantly furnished with black and gold elements. They have a huge selection of wines, champagnes or sparkling wines. Of course everything is included in the all inclusive program (You only have to pay for a few exceptions and really special requests at the bars and restaurants).
Oh and you have to be dressed smart casual in all restaurants and bars of the hotel.
We actually planned to visit a few cities on the island like beautiful Lindos and wanted to do a little bit more active things, but the Mayia took care of us way too good so we often canceled our plans of leaving the hotel area, except to go to the hotel's private beach.
All day we were sunbathing, tanning, lying in and around our swim up pool, always drinking plenty of cocktails (of course only because we didn't want to dehydrate :D) and actually eating stuff 24/7. But the best thing was to enjoy the evenings with sea view, some drinks and great talks.
THE BEACH is a private beach and therefore only reserved for hotel guests. The public part of the beach is a little further above Mayia beach.
On the private beach you can go jet skiing, get pulled up into the air with a paraglider, rent boats and cruise around in the sea.
On the beach there are comfortable beach loungers, the same ones which are also by the pool etc., of course with large umbrellas and another beach bar. You don't really have to go there because the nice lady often comes to the loungers and asks what you would like to drink. Having some ice-cold beers or cocktails at the beach is simply amazing :) and you don't have to move :D so while reading this you'll understand why we stayed the whole time at the hotel.
The beach is a pebble beach, outside of the water with relatively small pebbles, but in the water it is recommended to put on bathing shoes as the stones can be quite large and slippery. A sandy beach would be cooler, but they made the best out of the circumstances here. And if you ever miss a sandy beach... you need some more drinks :D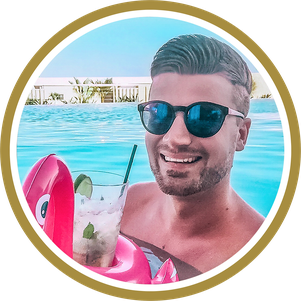 Our time at the MAYIA unfortunately passed by far too quickly and so the last morning came and we had to leave.
We walked through the hotel area with our suitcases to say goodbye to every little beautiful detail of the area, but not a minute later a golf caddy came by and we were asked to hop onto so that we don't have to carry our suitcases. However, we decided to walk because the sun was just rising and the sea was covered in an incredible color fade. This made it even more difficult to leave :(
When we got to the reception we were asked whether we would like to have breakfast or at least take something with us. But this was too early for us, we also had a few small snacks and bars in our hand luggage. And then our pick-up service came to bring us to the airport...
CONCLUSION: It was a completely perfect and very relaxing luxury stay. We always felt like they took care of us a constant 110% and this without creating awkwardness and still being funny and chill. They had incredibly delicious food and drinks for us and the staff were courteous and very friendly. We could forget the world around us and switch off our minds and enjoy daydreaming everywhere at the hotel area, especially in the swim up pool, where we had a few naps on our inflatables.
We will definitely come back, also because we couldn't test all restaurants at any time of the day :D
---
---
This might also interest you

For more products click via the arrows through the slider
---

---