The Travel Charme Bergresort in the beautiful, small town of Werfenweng in the Salzburger Land in Austria is a 4 star superior wellness hotel of a special kind.
It doesn't matter which season you plan your stay there, there is always something to do or you just chill out in the Spa all day long, have a fine meal at the hotel restaurant and enjoy life at its best. The 902 metres above sea level and a view of the snow-covered mountains makes this is even much easier.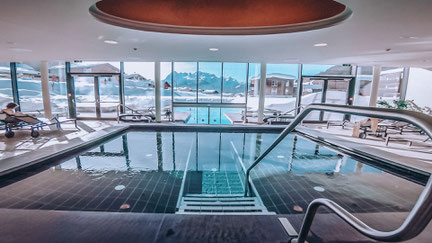 At the Bergresort Werfenweng you'll find everything which your heart desires: a hotel that combines modern style with the feeling of a lovely mountain hut, large rooms with comfortable beds, very friendly and courteous staff, fine food that's not only delicious but also modern and beautifully served and the very best: THE Spa area!
Pre-warning: Since we stayed at the Spa for most of the time, I'll probably rave about it many times in this blog entry.
We had the honor to visit the Bergresort the second time already and we were enthusiastic every time we came here. It became our oasis of relaxation when we were looking for peace and silence in the snowy mountains to escape stressful days.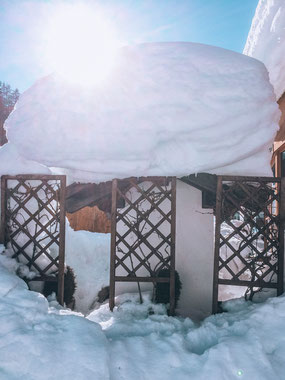 Already at the first visit we found the purest winter wonderland in Werfenweng, but the second time we drove off in the rain from Germany towards Austria and didn't know what to expect.
Arriving there it slowly became more and more sunny, but we only had a little bit of snow beside the roads.
Suddenly, when we got off the highway and took the way up to Werfenweng, we could hardly believe our eyes. The snow hight grew the closer we came to the Bergresort and up there the snow was a stunning 3 meters high.
The road to the hotel, which we actually knew well, looked like a tunnel with gigantic snow walls on both sides. For pedestrian crossings or entrances to shops some passages or doors were dug into the snow walls and everything looked like a big snow labyrinth.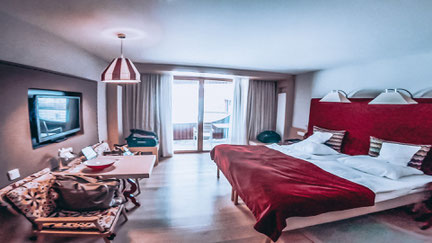 Even though the trip to Werfenweng was already super relaxed, our relaxation mood reached another level when we arrived at the hotel and had our welcome champagne in the beautiful lobby.
The reception area of the hotel is located in front of that big lobby, where a cosy fireplace is burning with very comfortable armchairs placed around it. From the lobby area you have an amazing view through a big glass front over the sunny winter paradise while the fire crackles behind your back. Although the hotel is located inside of the town it's directed in a way that you might think you have no neighbors around you. You can only see a beautiful snowy landscape, the pool and the mountains.
From the lobby you need to go to the right to get to the rooms and to the left get to the restaurant of the hotel.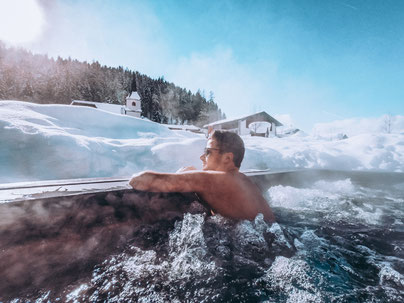 After checking in we went to our room. But we didn't stay there for a long time, because we slipped immediately into the bathrobes and slippers and went directly to the Spa area, which is called PURIA SPA.
We were in a rush cause we thought the Spa could become more and more crowded at that time with people returning from their skiing tours. But we were completely wrong and even in the later evening the Spa was empty as hell (or as paradise :D) and we had kind of a private wellness area for ourselves. There were like 6 people spread out on such a huge Spa.
So we had a lot of time to test all the saunas, steam baths, whirlpools, pools, heat loungers, rest places and other stuff.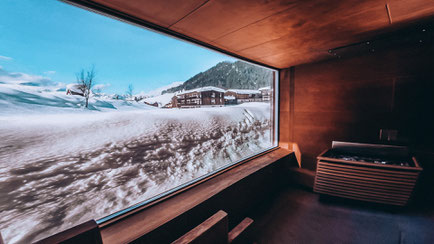 The PURIA SPA has a stunning 1,600 m ², a heated outdoor pool (20 x 8 meters, 31°C no matter if it's hot summer or cold winter), an indoor relaxation pool (36°C) and an outdoor Whirlpool (35/36°C).
The sauna landscape is definitely something special and everyone can find a temperature and humidity that fits to them.
You can choose between a 45°C warm alpine steam bath and a cedar wood bio sauna with a pleasant balance between humidity and dryness at 65°C.
Then there is the 85°C warm Finnish sauna, where the view through a large window overlooking the Alps provides an extra portion of Alpine feeling. You can also get very close to the mountains in the 95°C hot spruce wood sauna in the sauna hut outside, with a wonderful view of the "Hochkönig" mountain.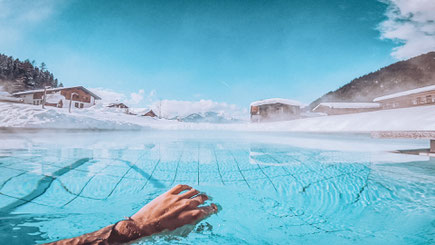 Especially the spruce wood sauna was my place to be during my stay. Cooking for 15 minutes in it, then cooling down in the snow to get the right kick for your body. Afterwards you don't only feel like a newborn, but also have the purest, softest and most even skin ever.
The rest of the time I was laying in the outdoor pool and whirlpool. With bubbling water at body temperature and a view of the mountains, switching off your mind is more than easy and it seems just like a dream.
Sometimes you become so deeply relaxed that you simply want to sleep a little, for that I recommend the warm loungers where you can fall asleep quite fast with a gentle warmth around you.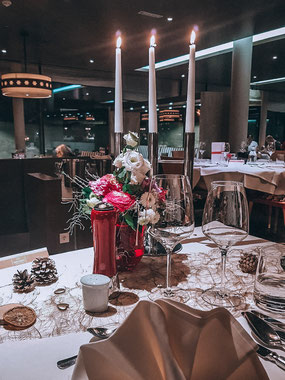 After a successful wellness day, we went to our room that can be reached from the spa without any problems and without having to walk a lot. You can get there via an elevator and don't have to walk through the hotel in your bathrobe.
Now we got ready for dinner at the hotel restaurant "Feinspitz".
At the "Feinspitz" there is either a nice buffet that is lovely arranged or a menu of several courses, where you can also choose between 2-3 menus. You get informed about if it's a menu or buffet day on a personalized tablet PC in your room, where you can also find all other information about your stay. But if you haven't checked out the tablet PC you'll get informed at the table, when the nice waiters and waitresses welcome you and tell you what they offer for dinner today.
The food was a modern harmony of international and Austrian specialities and classics, newly interpreted with fine additional elements.
It was awesome that on the second day at the reception and also at the restaurant they all knew that it was my birthday. And so, everybody congratulated me and even in our room there was a handwritten birthday card and a box of chocolates. It was a really nice and unexpected present, which I was very happy about. Thanks a lot again for that Lovely gift :)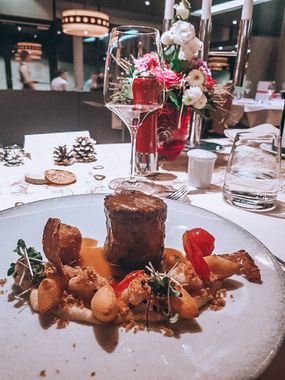 On my birthday we had booked a special dinner menu and enjoyed a delicious bottle of wine. The table was beautifully decorated with winter elements and perfectly fitting colours.
As a starter we had a very fruity tomato cream soup with croutons and a home-graved salmon with a shrimp on a quinoa bed, decorated with a caviar, potato crunch and an apple chip.
As main course we had beef filet with mashed potatoes, some small Kafiol croquettes (breaded cauliflower), fresh herbs, some vegetables, bacon and a delicious jus to go with the meat.
The dessert had two kinds of mousse with meringue, a homemade brownie, a delicate chocolate stick decorated with mint, raspberry crumble and cocoa powder.
While writing about these dishes I already get hungry again. So as you can imagine, we were completely satisfied and very full (plus tired from all the wellness stuff).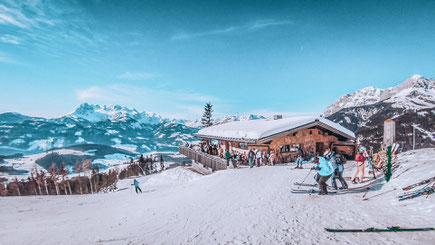 After a great second evening we went to our comfortable bed to be fit for a snow hike in bright sunshine the next day.
Actually we wanted to find a hiking trail to one of the surrounding mountain tops, but most of them were closed due to heavy snow. So we had a nice hiking tour in the valley, with the plan to go up the mountains by ski lift the next day to enjoy some cocktails and snacks up there in the sun.
The hotel itself also offers a lot of tours and activities. You can get a special card (Samo Card) at the arrival with which you can take the public transport, get a discount for many hiking tours, excursions, carriage rides and much more.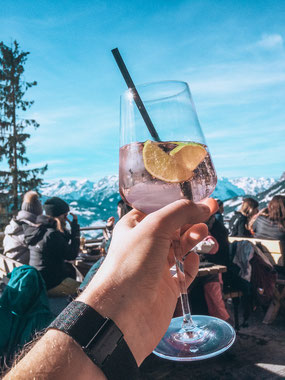 Directly after our trips we always visited the PURIA SPA to warm up.
at noon we could have eaten in the so-called "Strobelhaus" of the hotel, a rustic hut with good and proper meals and I know we should have tried this as they have very tasty Austrian dishes but we loved the Spa way too much.
The next day we went up the mountain as planned by ski lift. There we had eaten super delicious Kaiserschmarrn the year before, but this time we had "a few" Lillet Wildberry and 2 oversized plates of fries while sitting outside in the sun. We turned the hut into our lounge and sat there in our T-shirts because it was really warm up there. A slight sunburn was included.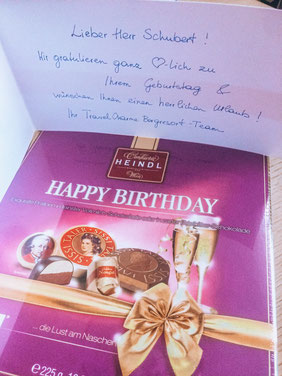 After another session in the spa and a restful night, the fourth day came and unfortunately the departure, even if we wanted to stay much longer at the Bergresort. We'll definitely miss the PURIA SPA the most.
All in all the holiday can be described in a few words: Relaxing at the limit in an amazing winter wonderland with delicious food and nice staff. You can relax from the first moment when you arrive at the hotel and immediately feel at home.
As we learned to love the Travel Charme Hotels and as I also had the pleasure to have a look at the great Kurhaus Binz at the Baltic Sea, we immediately had to book a stay in one of their other hotels.
But since it was supposed to be in March 2020, we didn't choose the Kurhaus Binz, but the Fürstenhaus at the Achensee in Tyrol in Austria to enjoy the snow and not the windy sea.
We are already very excited about what to expect in addition to the well-known feel-good factor and the great service. Hopefully there will be a lot of snow.

EDIT: Unfortunately due to Covid-19 we had to cancel our trip to the Fürstenhaus at the Achensee, but we'll definitely book another stay when the chaos is over...we try to visit it in the Winter holidays.
---
---
This might also interest you

For more products click via the arrows through the slider
---

---