Hey 😊 I hope you're doing good? 🙏
As I've already told you, I got plans on having a little surgery done, but also that it's not a big thing and it's not bad either.... because I'm planning to have a laser eye surgery! 👀
I'm sure most of you haven't noticed that I have myopia (I'm shortsighted) for over 10 years now and I thought so many times about having this surgery done. 📖 But never really informed myself about it, because I was a little afraid of it, when there's someone working on your eyes.🙈
But now I've found the right team & place where I wanna make it happen: The AOZ Heidelberg in my birth town with Dr. Schilling, who has done so many of these surgeries (more than 1000 per year).🍀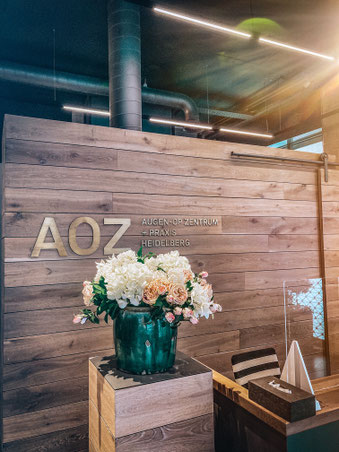 ℹ️ I've talked with him about everything that I needed to know and also got properly informed on their website (link above ☝) So now I knew that it's not scary at all 🙏. Quite the opposite, it's easy and done very quickly: the laser process takes only 28 seconds per eye 😳 say what?
there are a lot of examinations before and also check ups afterwards to make sure everything is perfectly prepared for a sharp sight. So I thought I'd take you guys with me and make a big informative video for you on YouTube & IGTV along with this blog article about the whole surgery and what happens behind the scenes. 🎥
I'm sure there are many of you who also have bad visual acuity and maybe considering having your eyes lasered too? So I hope this information will help you.
☺️The motives were clear why I'd like to have a laser eye surgery instead of having to rely on glasses and contact lenses all my life. So I thought to myself: "How awesome would it be when I can see perfectly sharp again and live my life without glasses or contact lenses. Drive cars & motorcycles normally, without glasses that need to be relocated all the time, that pinch and are totally annoying. Fly my drone as far as I want to, without ever losing sight of it. So that I can shoot videos, take photos & most importantly, finally enjoy beautiful views of sunsets or the views from airplane windows over the clouds and oceans!" ♥️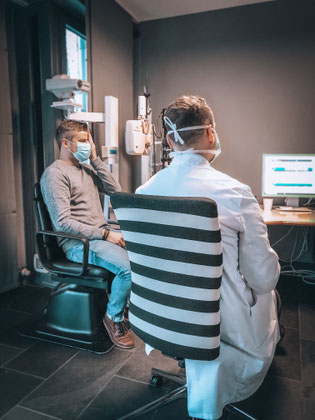 Then I had my info talk at the AOZ Heidelberg to find out whether I'm generally suitable for a laser eye surgery and if so, which laser procedure would be the best for me 👀
👁 Some eye check ups were done and my eyes were examined in detail to rule out any pre-existing conditions and to see if my cornea is thick enough for a laser treatment.
Before the surgery there's also a more detailed 2.5h examination, so that the laser has very accurate data to work right🔬
✅ It was planned that I'll get treated with the most modern and minimally invasive of all the laser procedures, the so-called ReLex SMILE method 😊
👉Dr. Schilling gave me a super explanation about that:
ℹ️ The laser is applied below the uppermost layer of the cornea on two levels, so that a particle is loosened and taken out through a 2mm opening. (In my vlog you can see the laser procedure on my eye 👁🙈) This lowers the surface and so the light points exactly at the right spot of the retina again, so you can see sharply 💡
👍 The other methods either involve lasering directly on top of the cornea (PRK) or require larger incisions (Femto Lasik), which are also proven methods, but more exhausting for your eyes 👀
THE BIG 2.5H EXAMINATION: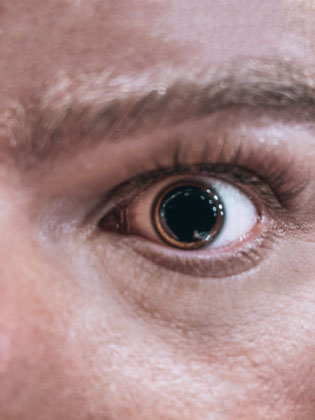 📆 So now the next things were the big examination and already 4 days later the laser eye surgery 😳 I was a little bit excited, even that I knew it's totally safe.
👁 And no, I'm not high in this picture, even though I have huge pupils 👀💧During the examination they put atropine drops in my eyes, which dilate the pupils, so that they can look deeply into your eyes 😏
✅ Simply everything was examined, measured and checked, so that the laser had enough data to work perfectly 🙏
😇👌 What they did:
Eye pressure m

easurement

Eye scan + measurement

Cornea & retina check

Detailed tests to rule out pre-existing conditions

Spatial vision

Red-green weakness

And many other tests that you know from the optician 

👀
🏎 Due to those eye drops, I wasn't allowed to drive for 24h until my pupils were smaller again 😁 Because it's like fully turning up the aperture on a camera changing the depth of field and also the light sensitivity 📸 Only that I couldn't change my ISO value or readjust my focus 🙃 Therefore, everything was now blurred at close range and at a distance anyway, due to my myopia, which will soon be a thing of the past 🙈
But now everything was checked 110%, so that the surgery could start on Friday 🥳👌 I was ready for it, still slightly excited, but in a healthy mix with plenty of anticipation of a new razor-sharp view ☺🌅
THE DAY OF THE LASER EYE SURGERY: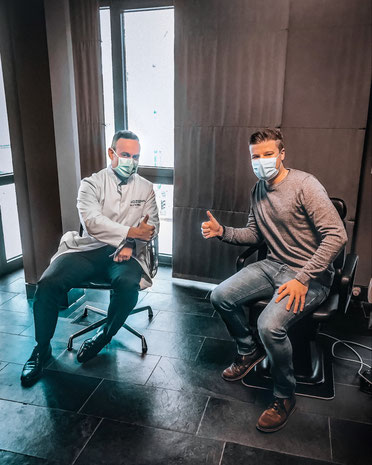 Now the day was finally here: The surgery 🙈
There wasn't much to consider except that I wasn't allowed to use perfume, lotion or hairspray in the morning before, as this could affect the laser (hairspray & perfume mainly because of their alcohol).
☺I went inside the AOZ and everyone there took care of me from the beginning on. It didn't feel like the moments before a surgery, it felt completely professional but more like the moments right before a wellness treatment or something similar, because of the whole lovely team and atmosphere that gave me a super relaxed mood.
Nevertheless, you get light sedative drops and also local anesthetic eye drops, which take away your blink reflex, so that you don't feel the need to blink during the surgery.
Now I went to the surgery room, laid down and Dr. Schilling guided me through the whole process with his soothing voice. He always explained what's going on, so that you never had the feeling of fear because you didn't know what was going to happen next. It was almost like a guided meditation and gave me the necessary calmness. 😊
But then it was medically necessary to use another laser procedure on my left eye. The so-called PRK method, where the laser is applied to the top of the cornea. It's probably the most proven method, as it has been used since the early beginnings of laser eye surgeries. On the right side they used the already told ReLex SMILE method.
Then everything went pretty fast, as the laser needed only 28 seconds per eye. I didn't feel anything, I just had to look at a green light (which isn't the laser, because you can't see it) and then all was done.
So after a few minutes we went back to the doctor's room again and I already noticed that my view was a lot sharper than before but like through frosted glasses.
Dr. Schilling looked at my eyes very closely through a microscope and was very pleased with the results of the surgery.
Now I got all the necessary eye drops, detailed instructions on which drops to use where, how often and for how long, plus a very stylish pair of sunglasses (I will definitely still wear them after everything is done 😎) and eye capsules for the night so that I don't accidentally rub my eyes or get dust in. On the left (PRK) I had to wear these 2 nights and on the right (ReLex SMILE) only one night.
Other things I had to keep in mind were that I should be careful with shampoo etc. around my eyes while showering, I shouldn't do any sports for 2 weeks, don't exhaust myself too much and avoid swimming and saunas. Which wasn't too difficult during Covid times.
As a gift I also got a beautiful mug with the AOZ and other great buildings of Heidelberg on it (see picture below) ♥
Then I had my first wow moment: I looked out of the window from the 3rd floor to see if the person who was supposed to pick me up in front of the AOZ was already there. And I recognized the license plate at a great distance and read it in my head without realizing that this wasn't possible at all before. 3 seconds later I noticed it and suddenly had goose bumps all over my body 🙈 A great feeling: you go into a building with blurred vision, come out a little later and see sharply without glasses 🥰
I felt really good right after the surgery, I was only quite sensitive to light 😎 but fortunately I had received the sunglasses, which were my companion for the first 2 days, even in darker weather. But I had neither pain, nor dry eyes or other problems, I was slightly tired and dizzy from the sedative drops, but nothing else. Simply amazing and almost too good to be true, so that I somehow expected that something would come, but as they told me, nothing bad has happened 😊
1ST FOLLOW-UP (DAY 1 AFTER THE SURGERY):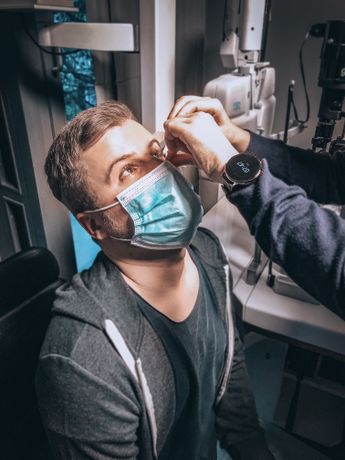 At the 1st follow-up visit, Dr. Schilling took a close look at the healing progress and how good my visual acuity was:
On my left eye (PRK) I had 100% visual acuity and the lasered surface was already closed after one day 😳, on the right (ReLex SMILE) there was still some fluid in the lasered area, but the vision was also quite sharp already 🌶.
The light sensitivity was almost gone and should be completely gone the day after. I had slight vision fluctuations from time to time and double vision with halos, which means that lights shift a bit to the side and you see circles around bright light sources. Which is totally normal after such a surgery.
I was told that the visual acuity is supposed to go even higher than 100% when everything has healed perfectly, so that I can see sharper than I've ever seen before ☺
2ND FOLLOW-UP (DAY 6 AFTER THE SURGERY):
I don't think I've ever seen so sharply in my whole life, and that should be measured today at the 2nd follow-up visit. And yes, the results were far above 100% and The healing process also went very good after these few days.
DAY 14 AFTER THE SURGERY & CONCLUSION: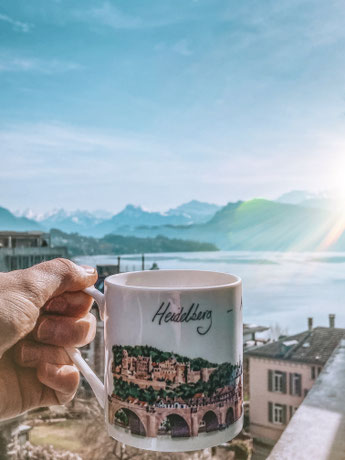 It's just unbelievable that 14 days ago I had a completely blurry vision and now everything looks so sharp without glasses or contact lenses. Everything in my eyes feels the same as before, and it's hard to believe that I had a surgery just a few days ago. It's such a giant return of life quality ☺.
I can ride motorcycles & drive cars again without any restrictions, I'm allowed to fly with my drone as far as I can see, which is a huge advantage. It also helps tremendously when taking pictures or shooting videos. But most of all, I'm finally able to enjoy all the beautiful views again.🙏
I'd like to take this opportunity to thank the entire team of the AOZ Heidelberg ♥️ You're such a great team, please keep it up! Because with you, I wasn't feeling like a patient in a normal doctor's office, as you guys created a totally relaxed and incredibly warm atmosphere there, so that you feel more like in a wellness resort than in a doctor's office.
THANK YOU 😊
---
---
This might also interest you

For more products click via the arrows through the slider
---

---