How have you started your career, First with music & then traveling?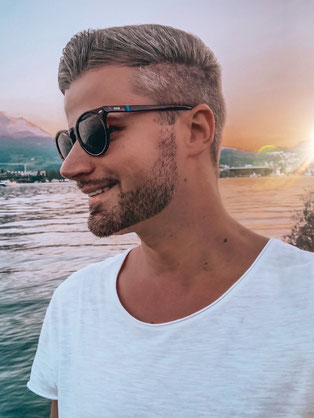 Okay let's start with music:
For a long time I had nothing to do with music at all. Sure, I've listened to music in every imaginable situation and loved what these musicians have produced.
But I was not very interested in how to make music, because I always had very "strange" teachers in my music lessons at school, who have taught the subject of music in such a really old-fashioned way that it was just boring for me. So I also wasn't good in music lessons at all, except in exams where I could copy from my neighbor 🤣 Just kidding, but in music I had one or two D grades (it's a 4 in Germany). So it's even more surprising that I graduated my music studies at the university in Heidelberg with B+ (1,8 in Germany) So as soon as you love it you are motivated to give your best. But later more to that...
Anyway, back to the start:
Because it was really cool at the age of 16, I started producing hip hop beats on my laptop with a cheap midi-keyboard, but I still had no idea what notes are or how to read them.

At that time or maybe 2 years later a lot of things has changed in my life and I needed something to solve and clears up all this stuff in my head. So I started to write down what was happening to me, about all the things that made me sad but also about everything that made me very happy. Out of that I wrote down the first lyrics and finished my first songs in combination with my produced instrumentals.
That was the beginning and from then on I taught myself to play keyboard and guitar, all the needed music theory, studio and production techniques and much more.
Then there was another turning point in my life, since I was only doing music as a hobby. Cause till then Motorsports were "the main thing" in my life. Since I was 7 years old I was a race driver and very successful with several German championship titles (5).
Therefore I've always planned that my profession should also direct into this way and so I studied automotive engineering at the university in Stuttgart.
But when the question came up how to go on after that, a newcomer contest of the radio station BigFM came as a small helper for that decision.
I unexpectedly won all of the competitions against many other great musicians and were on their daily rotation for 8 amazing weeks.
That was the time to say "Hey I want to make music to my profession!" But as I couldn't get started right away, I thought I'd study music first, not necessarily only to learn new things, but more to have another 3 years to build something up. And that's why the B+ bachelor degree is even more great, because most of my time I spend at night until early in the morning with producing my music...
sometimes I was awake for that until 7 or 8 o'clock in the morning and then I had to go to university. Unbelievable that this has worked. And yes, that's how my first 3 albums came out and a lot of radio stations wanted to play my songs and interview me.
And now I'm here! I've been making music for 13 years now and I still love it and I'm so proud that I can do this, for which I'm extremely grateful.
So I'm making music since 2007 but I've released my first "real" songs in 2011, therefore my logo also says EST. MMXI (2011).
before we come to traveling: what makes music so special for you & where does your artist name COLOURIST come from?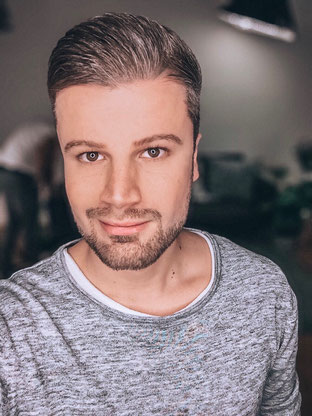 The special thing about music for me is that it helps me to solve or clear up things in my head. It is like a musical diary for me.
All songs together are like a photo album with moments and snapshots of my life. But the best thing about music is that I can inspire my listeners to find themselves in it, to identify with it, to give something back and that people have fun listening to my music. Because without listeners my music wouldn't be true music.
How I got my artist name COLOURIST is a very philosophical and at the same time technical story:
In the film industry, a COLOURIST is responsible for defining the colour grading and thus the overall mood of the film material through a variety of colour grading techniques.
So I thought to myself, this is exactly what I do in music, just with tone colours. In other words, to add tone colours to my stories so that they even better transport all the feelings that can't be told with words but are an important part of these stories. And also to make those moments, thoughts and feelings live forever in music.
With this I want to give you exactly the mood that I had in those moments and while writing these songs. So that while you're listening to the stories with all their emotions you'll see them in your head just like a movie. Therefore I paint with tone colours, just like a musical COLOURIST.


(SIDENOTE: The comparison between music & language, so what music can say non-verbally, was the issue of my final thesis at the university).
As you already know, In the stories behind my songs, I always try to capture the amazing moments of my life and paint around them with the whole palette of tone colours to make those moments, thoughts and feelings live forever in music.
With that I want to transport exactly the mood that I had in those moments and while writing the songs. So that when you listen to them, the stories with all their emotions can be seen like a movie in your head.
So I paint with tone colours just like a musical COLOURIST.
So I know everyone loves traveling but how have you made this to your job?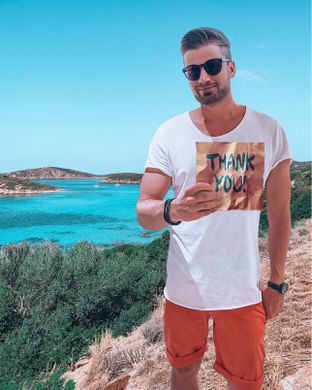 That's very easy to say and has a close connection to my music:
As I love traveling, one day I thought why not combine music and traveling.
I started to shoot my music videos always when I was at stunning places all around the world. It was more of a time saver or a nice side product, because before that I always searched many many days to find cool locations, then write a script and try to figure out how to shoot my videos there to look professional.

Ah and yes I forgot to mention that I not only make my music on my own but also the whole video shooting stuff, including cutting and editing.
So the travel and music combination helped a lot to make it "easier" for me. I put quotes on easier as it might be an amazing thing to do all this, but it´s not easy at all.
The idea behind it was to capture even more feelings in my songs with those travel videos.
And then I made most of my videos as a point of view version, so that everyone who's watching thinks he's the character in the video, experiencing traveling, feeling the music and have "virtual holidays" while watching my music videos.

And I had so much fun doing this that I needed to travel even more. Which was of course expensive but after a while some hotels and travel agencies noticed me and my work on my website. And then all of a sudden I had some little cooperations and deals with them to make the traveling affordable and to show my fans even more exclusive and luxury footage in my videos.

Then I also started my travel blog here to also show my experiences while traveling and not only showing nice videos with music.
This brought me to the thought that I could do this even more professionally and I tried to contact a lot of people of the travel industry. So I found many partners to make traveling to a the other half of my job.

And can you tell me what's more beautiful than making music while traveling around the world?
I simply love it and I'm sooo thankful that all of this is possible. Without my partners, listeners, readers, fans, followers, friends and family this wouldn't be possible.

So thank you so much for all your support!!! <3
Do you have any advice for upcoming musicians or travel blogger/influencers?
There only needs to be one advice:
Never ever give up, music and/or traveling is what you love and live for. Don't let anyone tell you that this is not a reasonable profession or job.
Of course it's not easy, but hellooo most of the time that sentence above is from someone who doesn't know it better. don't be mad at him/her, do your thing! As you don't want anybody to kill your dreams! Protect them :)

So don't have any fear to break out!
---
---
This might also interest you

For more products click via the arrows through the slider
---

---